STALLIONS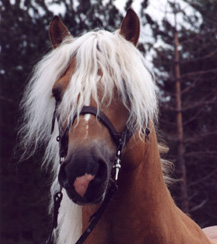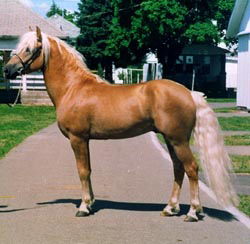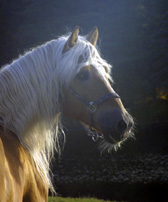 17/03/1990
F: Afghan II / Afghan
M: Annette / Winterstein

To view Adanac Video, http://www.youtube.com/watch?v=6adlUUfDmT0

Our Stallion Adanac was imported from Austria in 1992. He is the son of the World Haflinger Champion Stallion Afghan II.
His mother, Annette is also a multiple World Champion.

Adanac's breeder is none other than the world renown Haflinger Breeder Herr Otto Schweisgut Adanac is a modern type Haflinger Horse, standing elegant and proud at 15 HH, with a very refined conformation.

In November 1993, Adanac was inspected as a "Gold Stallion" with 82.5 points. Since then, he has been known as the HIGHEST INSPECTED Haflinger Stallion in North America. He is also the only "Gold" inspected Stallion in Canada.

The highest scoring Haflinger Stallion in the world is Adanac's half-brother, Amadeus with 85 points.

Since 1993, we use Adanac in our "High Qualify Breeding Program", where quality is the goal-not quantity. Adanac is unfortunately NOT available for breeding with "outside mares". However, if you do wish to purchase Adanac's offspring, please contact Theo Hug.

He will help you to locate the absolute best Adanac offspring available in North America. Also, feel free to ask for our promotional stallion DVD. For More information: contact Theo Hug.



Alabama CHF ( 1990)

Sire: Alpen Konig (Austria)

Dam: Blanka (Austria)

Stands 58" tall.

Inspected: 78 Points.




To view Alabama Video, http://www.youtube.com/watch?v=Y9mDvezisNs



ALABAMA CHF is available for 2006 Breeding season in Canada Only

He is producing modern sport horses with excellent temperaments. He truly is a living legend, having sired many champions and top quality Haflingers in USA and Canada.
Beautiful expressive head that is passed on to his foals.
This Stallion can be ride by any kids or beginner, and he drive double with mares !
Breeder: Chipmunk Hill Farm. Ohio ( Aden & Betty Miller)



2006 SERVICE FEE $ 650.00 CDN
-10% If booked before January 1 2006
Send 50 % deposit to:
Grison Farm
Racine Québec
Canada J0E 1Y0


CLICK HERE FOR BREEDING CONTRACT


For information: Contact M. Theo Hug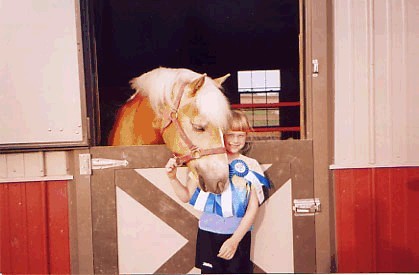 Hello Mr Grison,

It is exciting that Alabama CHF is coming back to Ohio for the 2005 breeding season! We hope to see many more Alabama babies soon. I want to tell you a short story that you indirectly have a part. We own Airspace CHF (Alabama CHF X Atlantis CHF) and we really believe that Mr Aden Miller really knew how to breed for the best of the best. This is our first horse and my daughter Erika has only been riding and driving him for less than a year but they both worked hard through last winter and spring then had a very successful summer... Through the summer and fall shows we've had many people look at Airsspace and say they've never seen such an attractive haflinger. Our response to them has been for them to look at all haflingers again because they are absolutely wonderful animals! I am a proud father and at the end of the day seeing my daughter's face beaming with pride and happiness with her horse makes the effort and expense well worth it.

Brian Vannarsdall